New Year's Sale!
$50+ Off New Teeless Hybrid
Save 20% + Free Shipping
"It actually delivers on what hybrids are supposed to be."
All-New (T)Less HyLaunch Hybrid Boasts Across-the-Face Firepower and Forgiveness, Helping You Find Fairways with Ease and Attack Greens Fearlessly from Any Lie
Have you had it up to here with your hybrids?
Man, have you got company.
For clubs that promise so much…
Like a high launch…
Pinpoint accuracy…
And being easy to get airborne from any lie…
Most hybrids deliver very little.
Some are hook-prone. Others send the ball squirting low and right.
It's almost like hybrids are coasting on their reputation for being better than the long irons they replaced.
That's a pretty low bar.
Finally, somebody raised it.
Legendry club designers Guerin Rife and Jeff Sheets, the duo behind the game-changing (T)Less Driver, transferred the technology to a pair of hybrids unlike any you've ever hit.
And golfers everywhere are rejoicing.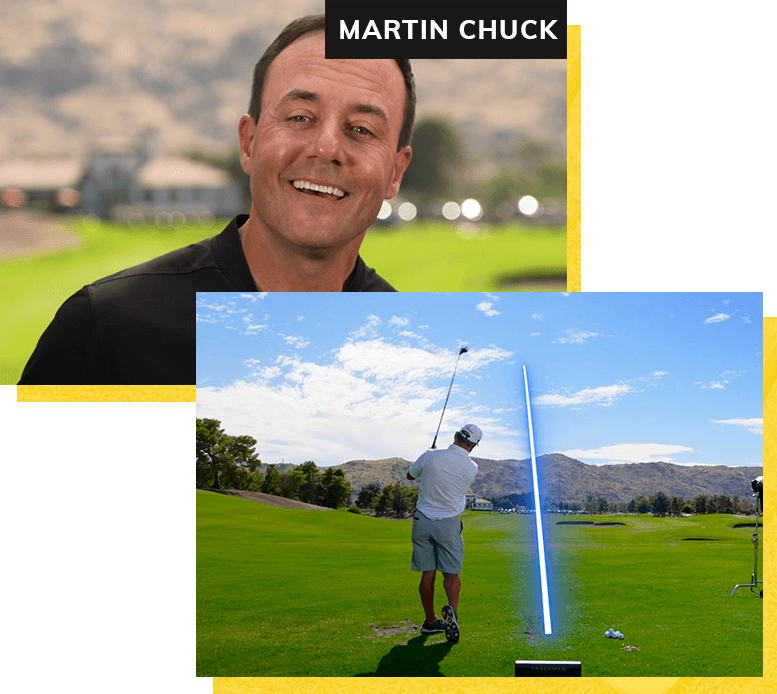 The (T)Less HyLaunch Hybrid
What makes this club different from any other hybrid out there?
For starters, there's its deeper-than-average clubhead, which moves the center of gravity back and jacks the moment of inertia up for exceptional forgiveness.
There's its proprietary sole design, with just the right amount of curvature and bounce to handle any lie with chunk-proof ease.
And there's its smoking hot maraging steel clubface, which produces impressive ball speed no matter where you strike it.
Add a perfectly matched shaft built exclusively for the (T)Less Hybrid and you get a club that:
Generates outrageous distance for golfers of any swing speed

Launches high from the tee or the turf, including rough, tight lies and even divots

Keeps your miss-hits from going miles off line

Serves as a go-to weapon when you MUST hit the fairway or green, and, best of all…

Provides the consistent performance you've been craving in a hybrid
For that, you can thank its designers.
Guerin Rife, best known for his numerous putter innovations, had the original idea for the (T)Less Driver.
His partner, Jeff Sheets, has built clubs for multiple major champions and some of golf's biggest brands.
That's an awful lot of brainpower on one project.
One of the designers' first and most important decisions involved material.
Instead of titanium, they went with maraging steel for its superior "spring-like" quality – the ball practically explodes off the (T)Less HyLaunch face.
That goes for the whole face, not just the sweet spot.
That's the beauty of Variable Face Thickness, or VFT. The (T)Less Hybrid is thinner in the center, thicker toward the heel and toe, so ball speed barely diminishes when your impact is less than perfect.
"The ball jumps off the club," confirmed Scott S., owner of a 19° (T)Less HyLaunch Hybrid. "I have been carrying the ball approximately 220 yards with this club."
And Chad Kobold, a 13 handicap who tested the HyLaunch against his own hybrid, loved its across-the-face firepower.
"I wasn't sacrificing distance," he marveled, "even hitting it
on the toe."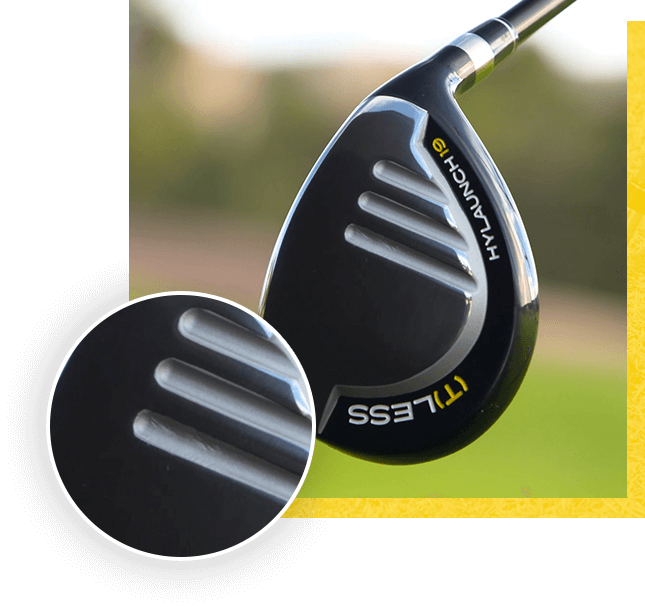 A lot of hybrid clubheads are fairly shallow from front to back. Not the (T)Less HyLaunch.
By extending the area behind the clubface, Rife and Sheets moved the center of gravity back (CG) and raised the moment of inertia (MOI) – and the higher the MOI, the better your miss-hits.
Chad Kobold's toe shot, which he calls "a common mistake that I do," was no problem with the (T)Less.
"The HyLaunch immediately kept it straight," he noted, "even drew it back into the fairway."
That's a great comfort off the tee. It's even more important on approach shots, when even a slight miscue can mean big trouble.
With the (T)Less HyLaunch, you can fearlessly attack any fairway or green – because it ain't going sideways.
A deep CG also lifts the launch angle and adds a bit of backspin.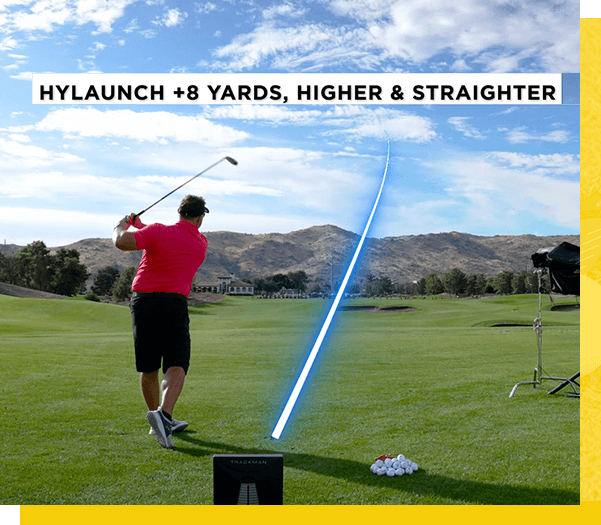 Result: Your shots off the deck will start higher, stay higher and actually stop when they land on the green.
If there's one thing you want from a hybrid, it's versatility.
It needs to be reliable from the tee and fairway…
Adept at gliding through deep rough…
Ideally, your hybrid can also get you out of fairway bunkers…
And if it can hoist the ball cleanly from a divot, well, that's a major bonus.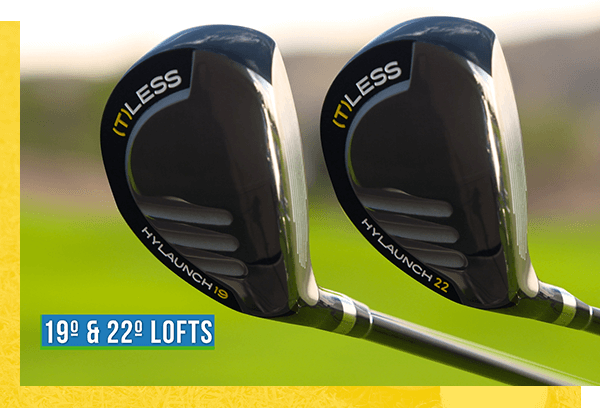 The (T)Less HyLaunch Hybrid checks all the boxes.
Credit the shapely sole, which features a touch of extra bounce near the leading edge to practically eliminate fat shots.
Says HyLaunch owner David P., "(I'm) very happy with the way the club lifts the ball out of the rough. Much easier to use than a wood."
Adds his fellow HyLaunch buyer Robert J., "I especially like my (T)Less 19-degree hybrid for executing recovery shots out of the thick rough."
Because the (T)Less Hybrid's clubhead is unique, pairing it with an off-the-rack shaft – even a high-end model – would not have delivered the best possible results.
So Rife and Sheets developed a shaft specifically tuned to the HyLaunch Hybrid's characteristics.
With the exclusive (T)Less Hybrid shaft, you'll enjoy:
A high launch angle and ideal spin rate, so there's no "ballooning" – only exceptional distance

Superior control from the tee, fairway, rough or sand

Excellent feel and feedback on solid and not-so-solid strikes
[At checkout, you'll choose between three flexes: Senior (60g); Regular (60g); or Stiff (70g). Each shaft has a "mid" bend point, which creates the perfect blend of distance and accuracy.]
19° HyLaunch Hybrid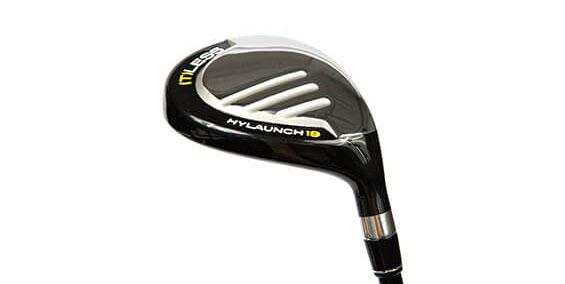 Equivalent Club:

3-iron or 5-wood

Length:

41"

Lie:

59°

Clubface Material:

Maraging Steel

Swingweight:

D2
22° HyLaunch Hybrid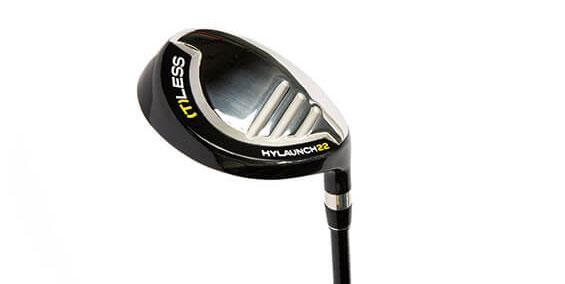 Equivalent Club:

4-iron or 7-wood

Length:

40.5"

Lie:

59.5°

Clubface Material:

Maraging Steel

Swingweight:

D2
"It actually delivers on what hybrids are
supposed

to be."

These golfers tested the (T)Less HyLaunch against their own hybrids, with a TrackMan monitor charting every shot for height, distance and accuracy. Take a wild guess which one they preferred…
"I've had trouble hitting various other hybrids," said
Eric C

. in a 5-star review. "This club delivers."
Ronald H. called the (T)Less "the best hybrid I have ever hit. Awesome feel and design."
And a golfer named Anthony M. praised it as "(the) best club I've ever used on the fairway."
So… if you're among the legions of players who've found hybrids more disappointing than "The Godfather Part III"…
It's time to join a different crowd – the crowd of golfers who don't dread pulling a hybrid. They relish it.
It's time to try: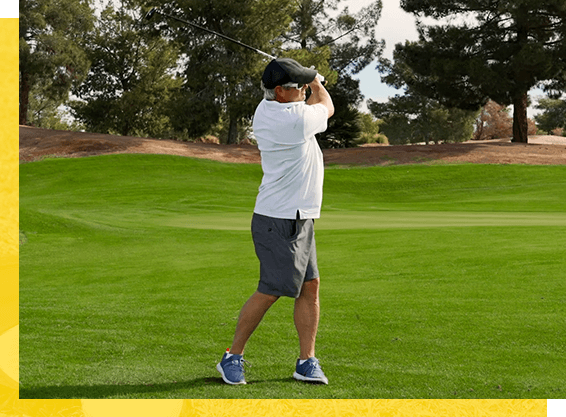 Hybrids are supposed to be easier to hit, but I never pull mine out of my bag because of lack of confidence. But with the HyLaunch, you could see and feel the difference right away with the higher the launch, the distance. All those things were a huge increase over my current hybrid. It actually delivers on what hybrids are supposed to be. Very impressive club.
- Jared Keesling, 12.5 handicap
Today was the first time I hit it, and I hit it better than three or four of the other hybrids that I have hit in the past. What I like about the HyLaunch Hybrid it's got good loft, it gets the ball up in the air. It's way better than my own hybrid, which I tend to hit low and curve to the right.
- Ron M., 11 handicap
The HyLaunch is the most forgiving hybrid because immediately I felt comfortable swinging it, and the results showed it was keeping (shots) right in the middle of the fairway.
- Chad Kobold, 12.5 handicap
What we saw across the board with just pure data is that everyone that put the HyLaunch in their hand... the golf ball goes higher. All the amateur golfers loved hitting it and the data backs it up as well. Just across the board, it's a really nice club.
- Rob Rashell, PGA, TrackMan Expert
Money-Back Guarantee:
Try the (T)Less HyLaunch for 30 Days, Return It If You've Ever Played a Better Hybrid
Once you receive your (T)Less Hybrid, don't waste a second.
Head to the range and pit it head-to-head against your current hybrid.
If you've got a personal launch monitor, compare the distance, launch angle and accuracy.
Then take your (T)Less to the course and see how it performs under game conditions.
Hit it off the tee. Try it off the turf, too – from perfect fairway lies, gnarly rough and yep, even divots.
We don't think you'll need 30 days – or even 30 shots – to make your choice.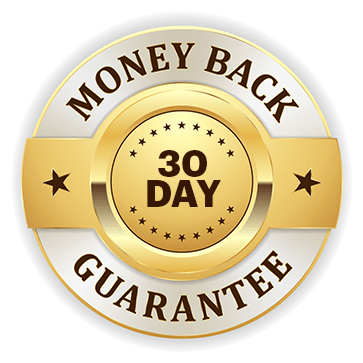 The (T)Less will come out on top. We're sure of it.
If you don't get the results you expect from the (T)Less HyLaunch Hybrid, your next move is simple.
Just send it back and we'll give you a full product refund. (Yes, even if you scuff the face or add a "beauty mark" to the crown.)
We get very, very few returns, and we expect you to hang on to your (T)Less HyLaunch Hybrid once you find that it:
Launches higher, carries farther and flies straighter than your current hybrid

Performs flawlessly off the tee when you absolutely must hit the fairway

Gives you a major edge on those long, hard-to-reach par 3s

Eliminates fat shots, low-and-sideways misses and inconsistency on long-distance approaches

Rescues you from rough, sand and other trouble spots like nothing you've ever played

Instills confidence instead of fear when you pull it from the bag
TeeLess Hy-Launch Hybrid
Frequently Asked Questions
Q.

What is the (T)Less Hy-Launch Hybrid?

Hy-Launch Hybrids are specifically designed for regular golfers to launch the ball higher, straighter and further, with less effort. Hitting the ball higher & farther means clearing sand and trouble. And with the extra spin and control, you'll be able to hold more greens. It is the most forgiving and easiest hybrid you'll EVER hit…or your money back!
Q.

How and Why Does the (T)Less Hy-Launch Hybrid Work?

The "no-dig" design of the Hy-Launch Hybrid sole keeps the club from digging and pops the ball straight up in the air for optimum distance and accuracy. They also moved the center gravity back and low, compared to a normal hybrid. Doing this expands the sweetspot, effectively making the entire face one massive sweetspot!
Q.

How Much More Distance will I Get with the (T)Less Hy-Launch Hybrid?

Good question! Some golfers are experiencing 8 yards longer and straighter going directly into the middle of the fairway, while others are gaining 12 -15+ yards.
Q.

Is the (T)Less Hy-Launch Hybrid a "Real," Quality-Made Club?

The material they found accomplished the task best, was a cutting-edge, high performance, specialty steel alloy from Carpenter Steel called maraging steel but also known as Spring Steel. It's called Spring Steel because of its combination of thin, light weight and almost trampoline reaction it imparts to a golf ball.

To complete this all new, state of the art hybrid, they matched a proprietary composite shaft with the ultimate kick point, launch characteristics and forgiveness, along with a high end, tour style grip. And to finish it off, a head cover that looks and feels top quality.
Q.

Will the (T)Less Hy-Launch Hybrid Work with My Current Swing?

Yes! It is designed to fully use the energy of your swing speed and translate it into optimum distance for your hybrid shots.
Q.

Why Haven't I Seen the (T)Less Hy-Launch Hybrid in Stores?

The (T)Less Hy-Launch Hybrid is not sold in stores; it is sold "direct to consumer." Eliminating the "middlemen" and traditional marketing expenses allows RXS to use the best materials, components and testing while keeping the price you pay as low as possible.
Q.

What Lofts is the (T)Less Hy-Launch Hybrid Available in?

The (T)Less Hy-Launch is currently available for right handed golfers in 19 & 22 degree lofts. You can purchase them separately or as a two-pack of both 19 & 22 degrees.
Q.

Can I Optimize My (T)Less Hy-Launch Hybrid with My Preferred Shaft Flex?

Yes! We offer the (T)Less Hy-Launch Hybrid in three shaft flexes to suit just about any golfer on the planet. You can choose from: senior, regular, and stiff.
Q.

Is there a Money-Back Guarantee?

Yes! Try the (T)Less Hy-Launch Hybrid for 30 Days risk free. And really try it -- at the range, on the golf course. Go ahead and TRY to hit bad shots with it. If it's not the best club you've ever owned, send it back within 30 days of purchase for a full product refund. Shipping costs are not included or refundable.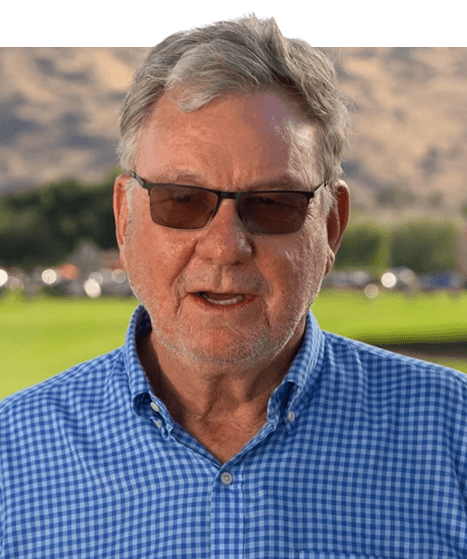 GUERIN RIFE
Guerin Rife has been building trendsetting golf equipment for more than 25 years. Best known for creating the famous Two Bar Putter, he's designed over 50 models that have been used to win over 100 tournaments worldwide on all professional tours.
Among Rife's innovations are the cavity-back mallet putter, grooves on the putter face and the no-taper putter grip. He founded a pair of hugely successful companies, Rife Golf and Evnroll, before developing the (T)Less Driver and HyLaunch Hybrid.
JEFF SHEETS
One of golf's most sought-after club specialists, Sheets has designed, built and fitted clubs used to win major championships, countless tour titles and Ryder Cup matches. He crafted the first metal driver Arnold Palmer played in a tour event and holds more than two dozen patents.
During his illustrious career, Sheets has worked with brands such as Spalding, Wilson, Hogan and Golfsmith while building clubs for Nick Faldo, Lee Trevino, Payne Stewart and many other stars.
Copyright © 2010-2022 GoGolf365. All rights reserved.